Globalisation, Inclusion and the Web in the Context of COVID
The Web has enabled a globally connected network of individuals and communities, but divides still exist and emerge in various online environments. Fostering an inclusive and just online environment is a persistent challenge: Web technologies can hinder or promote equity, and can exacerbate intersectional disadvantages. In recent years, this challenge has been amplified by the increasing prevalence of artificial intelligence and the automation of Web-based tasks as well as ongoing divides in Web access, use, and skill.
The theme for WebSci 2021, Globalisation, Inclusion and the Web in the Context of COVID, calls attention to these challenges, particularly in light of the ongoing global effects of the COVID-19 pandemic. Web Science is an interdisciplinary field dedicated to understanding the complex and multiple impacts of the Web on society, and vice versa. As such, the field of Web Science is particularly well situated to address these pressing issues.
This year's theme seeks to call attention to core issues facing the field, but as always we welcome a broad array of submissions relevant to Web Science.
Here are some highlights from last year's conference:
Registration is now open for the 2021 ACM Web Science Conference: Globalisation, Inclusion and the Web in the Context of COVID.
The cost for the full week is just £50. To help ensure broad participation in the conference our Fair Access Fund has up to twenty free registrations available to the PhD Symposium (and to the whole week of conference activities) for delegates from the Global South.
The event will take place online from 21-25 June and is organised by the University of Southampton. Presenters and participants will have multiple opportunities to engage over a full week of talks, Spotlight Panels, workshops, tutorials, social events and "Meet the Authors" informal discussions.
New events are being added to the programme all the time, but here are a few highlights:  
On the first two days we have a number of Workshops and Tutorials that you can sign up to take part in. The wide range of topics include Data Ethics, AI and Inclusion, Data Literacy, Democratic Futures and the Web, Music as Embodied and Social Data and many more.
The main conference will then take place over the remainder of the week. We have a growing list of speakers and accepted paper presentations. Details of other conference activities will be shared in the lead up to the event.
Although the core programme will take place primarily in European time, there will also be workshops/tutorials in India, SE Asia and the USA. All sessions will be recorded, so you don't need to cover every time zone in one day!
Keep an eye on our tweets via the #WebSci21 hashtag, and check out our website for further updates.
We look forward to welcoming you to the second wholly online Web Science conference in June!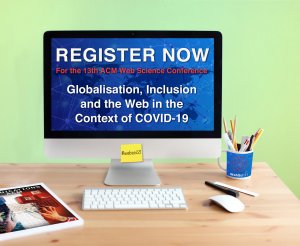 Important Dates
Feb. 12, 2021 Feb. 19, 2021 Abstract Submission Deadline
Feb. 19, 2021 Feb. 26, 2021 Paper submission deadline
April 9, 2021 Notification
May 10, 2021 Camera-ready versions due
June 21-25 Conference dates